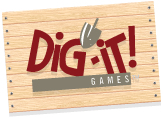 Dig-It Games has hit it out of the park on this one!  Founded by a professional archaeologist and former middle school teacher, Mayan Mysteries iPad app by Dig-It Games appeals to kiddos who are intrigued by history and artifacts, and soon, without even knowing it, they are using their creative thinking juices! 

From the Mayan Mysteries website….
"A looter has been digging up Maya sites, clearly looking for something specific. Could it be the mystifying Ladrone—a secretive thief with a history of stealing artifacts? Whoever it is, it's up to Team Q to stop it! Can you help Professor Alex Quinn and his niece and nephew Fiona and Charlie solve the mystery? Will you be the one who proves worthy of reaching the mythical city of Ich'aak, revealed only to those with pure hearts and the knowledge to protect the artifacts, sites and culture of the Maya?  Purchase Mayan Mysteries and find out!"
My daughter, the history buff, has been playing this game for a few months now.  This game truly seemed tailor made for her….it combined two of her FAVORITE things..history and mysteries.  One of her favorite things about the game is how "they take the information that we learn and turn it into games to help you figure out the mystery".  See? That's that "learning without realizing you're learning" kinda thing!
While working through the game, your student will:
Visit ancient Maya cities and sites
Uncover and analyze artifact
Decode glyphs
Explore the mysterious Maya calendar
Learn the intriguing Maya math system
Solve puzzles and gather clues to track down a secretive thief
Mayan Mysteries iPad app by Dig-It Games, specifically designed for grades 5-9, is not recommended for use on the first generation of the iPad.  You can purchase it here in the iTunes store for $9.99.  The company also offers an online version, that can be purchased here as a single user license for $21.99.
I can't wait to see more from Dig-It Games!!  Because as far as we're concerned, this game gets a big
!!!
I shall leave you with a little teaser…show this to your kids, and you'll definitely be downloading the game right away!!
As always, for more reviews go visit the Crew website to see what my comrades and their kiddos thought of Mayan Mysteries!